NYE Special Presentation
Fri. Dec 31, 2021 7:00pm - 8:45pm MST
Price: $28.95
16 and Over
Get Tickets
Details
Comments
Event Stats
Price: $28.95
16 and Over
Event Description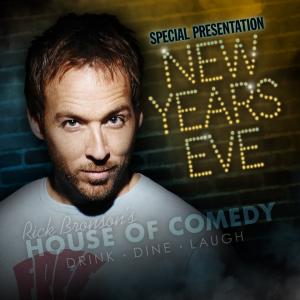 Credits:


Comedy Central


Chelsea Lately


NBC


Supporting Acts:


Mary Upchurch - MC


Joe Praino - Feature


NYE Special Presentation - No Passes/Coupons/Groupons Allowed
(2 menu item min per-person in the showroom)
We are sure you want to get 2021 over as badly as we do. What a great way to do it then at the House of Comedy for some great laughs and fun times.
We have 2 showtimes to choose from. The 7:00pm show is for those who want to get home early to bring in the new year. The 10:00pm show is for those who want to celebrate with us at the Hosue of Comedy. The late show will include the show ticket, access to our midnight appetizer buffet, party favours and a glass of champagne to bring in 2022.
About our Headliner:
Eddie Ifft has been called one of the most underrated comics in America by the Onion and has proudly told jokes around the world to sold-out crowds in over 15 countries.

Currently, Eddie hosts his podcast The Bingle Show, which was a crowd-funded success on Kickstarter with fans from all over the globe supporting the purchase of a used "short bus" to be transformed into a mobile podcasting studio. Eddie co-hosted of one of the most successful podcasts in the comedy world called Talkin' Sh*t, along with fellow comedian Jim Jefferies. He has also appeared on The Joe Rogan Experience several times.

Eddie's most recent DVD, titled I Love Pussy, was the follow up to his critically acclaimed DVD Live From Australia, which was filmed in front of a sold out audience at the Sydney Opera House in Sydney Australia. He has also released his own 30-minute special for Comedy Central and guest starred on the FX network series Legit. Eddie has made numerous TV appearances on shows such as Showtime's The Green Room with Paul Provenza, Showtime's Tommy Chong 420 Show, E!'s Chelsea Lately, NBC's Last Comic Standing, Comedy Central's Premium Blend, BET's Comic View, NBC's Late Friday Night, VH1's Never Mind the Buzzcocks, and VH1's Comics Unleashed. Eddie's popularity has spanned to Australia, where he has appeared on numerous TV shows. Ifft has also worked as the host of Shark Week, spent a season as the ABC College Football Guy, earned a job as 'man-on-the-street' on the Queen Latifah Show, hosted a pilot called Strap-On for Comedy Central, and co-hosted a sports radio show on New York's legendary WNEW.
Join the Conversation
Follow the event with #DrinkDineLaugh